About This Product
15% Discount
WackySox Saver Bundle Animal Farm is a collection of six pairs of knee length WackySox. The pack comprises one pair of the following styles; Baa-Barians, Friesian Folly, Raging Bull, Oinks a Lot, Keep Calm and Farm and Love Ewe.
WackySox are high performance sports socks made in Great Britain.
They feature an ultra-high performance padded Coolmax Pro footbed. Coolmax is the original moisture wicking fabric which transfers sweat away from your skin keeping you dry and cool.
WackySox knee length sports socks are ideal for rugby, football, hockey, running, netball and fitness with a fully elasticated turnover top to prevent socks falling down on match day.
The socks feature an external smooth toe seam which also ensures comfort and helps avoid blistering or toe and nail damage.
WackySox knee length sports socks can be worn with or without shin pads.
These sports socks also have an elasticated foot and ankle to prevent slippage.
The sock leg is made from 95% polyamide and 5% elastane, ensuring a comfortable and soft fit.
6 PAIR SAVER PACK
SAVE APX 15%

A six pair pack of knee length socks comprising the following styles: Baa-Barians, Fresian Folly, Raging Bull, Oinks a Lot, Keep Calm and Farm, Love Ewe.
Six Pair Pack
High Performance Knee Length Sports Sock
Coolmax PRO Foot Advanced Moisture Management
Fully Elasticated Turnover Top
Micromesh Air Venting
Flat Toe Seam
Elasticated Ankle For Support and To Keep Shin Pads In Place
Elasticated Central Foot Band to Reduce Slippage
Made In Great Britain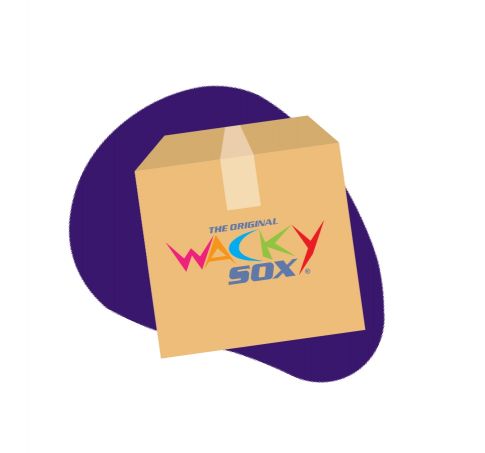 A delivery you can rely on!
We offer FREE GB mainland delivery on orders over £50. The delivery period stated within which you will receive your order is approximate. Goods will be sent to the delivery address confirmed by you in your order. If you are ordering more than one item, your goods may be sent to you in instalments if certain items are out of stock.
Our sports socks are made with Coolmax Pro Yarn that transports moisture away from the body to keep you cool and dry, helping to optimise performance.